The Superior Choice to Handcuffing Yourself to a Franchise
Junk Removal is a fantastic business to be in. Those of you who are in the position to buy into a junk removal franchise have a huge leg up on the competition right out of the gate. The much higher up front fee for a franchise is so worth it. Why, you ask? And how do you know? From personal experience.
I'm Lee Godbold, co-founder of Junk Doctors Junk Removal and Hauling. I started Junk Doctors when I was 22 years old and a manager at Jellybeans Skating Center in Cary, North Carolina. Actually, I think I was a manager. Who knows? Doesn't everyone say they were a manager when they worked at a fast food restaurant, clothing store, or roller skating rink? It sounds a lot better than "Bathroom Cleaner" on a resume – although I did plenty of that. And I did things much more disgusting with my next "job;" Junk Doctors. I was making I think $11 an hour at Jellybeans, maybe $10, and had managed to save up a pretty good amount of money for the amount I was earning. But it wasn't nearly enough to purchase a franchise. That option was off the table! I was going to have to figure it out on my own. That meant lots of expensive mistakes, some embarrassing, many frustrating.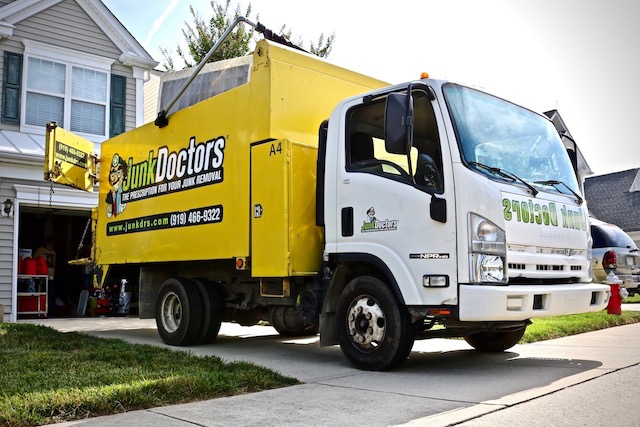 What started as a little 2-man operation became a $2 Million-a-year business in 5 years. Now, we want to help you get there even faster.
What was tough for me then is now a great thing for you. Because I've lost the money for YOU. I've gone through the stress of stupid decisions for YOU. Have I seen all the mistakes and problems that come with a junk removal business? Dang close. Have I seen what works? What can take a company started by a couple 20-somethings to a $2 Million a year business by the end of year 5? I sure have. And myself and everyone else with JRA have taken all that knowledge and created a business system that will make your company successful right out of the gate.
So, what exactly is JRA? JRA is a support and consulting service for the Junk Removal Industry. Currently, we offer a complete business system, call center, complete website and landing page, Google Ads and SEO management, one-on-one consulting, and the one-of-a-kind Pay-Per-Job Income Generation program. We are also in development of an app that will make running a junk removal company infinitely easier for the business owner.
What isn't JRA? JRA is NOT a junk removal franchise. What does that mean for you, the future junk removal business owner? That means, when you partner with JRA, you have a company that is fully behind you and committed to your success. But, unlike a junk removal franchise, you aren't handcuffed to us. Why? There are no ongoing royalties. You simply pay for the services you use. Want a complete business system that takes you from idea to opening day within two months? Great! You simply pay for it up front and that's it. Want to have a business that you can proudly say is 100 percent local? The people in your area will reward you greatly. They love shopping local.  Want a call center to use when you miss calls, after hours, on holidays, or even all the time? Perfect. Simply pay for the minutes you use our call center. You aren't forced to pay around 15 percent royalties to the franchisor for eternity. As you get larger, you very well might find out that you no longer need that support. But with a junk removal franchise you still have to pay for it.
Think about it. On $1 Million in revenue you are paying out $150,000 in fees. On $2 Million you are paying $300,000. Is that long term commitment worth the ongoing royalties? Possibly. Until now. Now you have an option that provides all the support without the commitment.
This is the first post for our new site here at JRA. New blogs will be posted a few times a week and will feature relevant info to the junk removal business. A lot of great info will be posted on this blog, on our Twitter, Facebook, Instagram, and Youtube pages. Please follow us on those social media platforms. The free info we will be putting out will be relevant to starting a junk removal business, managing the ongoing operations, purchasing a junk truck, dealing with customers, junk removal finances, and more. We are committed to providing great content. Will some of our stuff be sales pitches? Yes it will. But we 100 percent believe that the way we operate is what is best for prospective junk removal business owners. It is without a shadow of a doubt what we would have done when we started our business if this option had been available.
Don't give control away. Partner with JRA!
-Lee Godbold