JRA's Junk Removal Dedicated Service Helps Businesses Soar
Mitch Harrison, the owner of Junk Masters, is relieved to be able to step away from the phone and focus on keeping his junk removal business running. After all, he doesn't need to answer those calls. That's because his Dedicated Service virtual assistant is ready to answer those calls and book jobs.
"You need to find somebody to answer your phone, and I'm telling you, this is the way to go." -Mitch
When any junk removal business owner is personally responsible for all incoming calls, they're left with a difficult decision. Either they can spend time answering every single call, causing them to stop focusing on their work… or they can ignore calls, which guarantees that a competitor will snap up those potential customers instead. If you're like Mitch, then neither of these options sound great to you. That's why he started using the Contact Center at Junk Removal Authority to help make all these phone calls manageable. 
Mitch was one of the first JRA clients to join the Dedicates Service plan when it launched late last year. Now considered the premium Contact Center plan, the service is exceeding client expectations.
Dedicated Service: How it Works
JRA's Dedicated Service matches you with a fully-trained customer service professional. This dedicated virtual assistant works exclusively for your junk removal business and becomes like a member of your own team. You get all the benefits of an office assistant and customer service rep for much cheaper than it would cost to hire a full-time employee yourself. You won't have to worry about recruitment fees, background checks, payroll taxes, or benefits. JRA does all the heavy lifting for you! 
More Than Answering Calls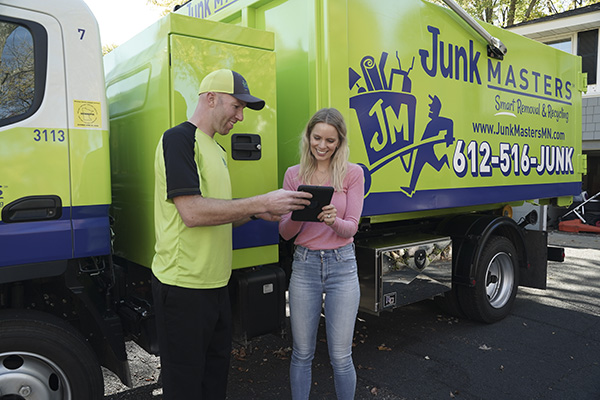 We have trained our agents to convert callers into customers. They'll book appointments in situations where you might not have been able to make the sale. Mitch noticed the difference right away. "The same-day bookings have definitely increased." He also noted that his virtual assistant knows his business, how it operates, and more or less feels like his own employee.
Taking phone calls isn't the only thing Mitch's virtual assistant can do, though. With the Dedicated Service plan, you'll have an agent at your service who can do all the following:
Manage appointment scheduling.

Between booking jobs and moving around jobs that are already on the schedule, keeping track of time can be a nightmare. Your agent will relieve you of the burden of scheduling entirely.
Manage invoicing and payments.

Your agent can generate reports, create and send invoices, and even accept payments over the phone for you. 
Make follow-up calls to customers. This is important because not only can your agent do quality assurance by calling customers whose appointments you've completed, but they can also request reviews, an instrumental part of growing your business.

Manage your email platform.

When you receive leads via email, your agent can respond to them on your behalf. Additionally, your agent can also create and send out mass email marketing campaigns.
Sniff out leads on other platforms.

Not all of your business will be found by phone calls and emails. Sometimes, you can find it on sites such as Home Advisor, Angie's List, Yelp, and more. Your agent will sniff these leads out for you, and you'll get more business.
When it gets busy in the world of junk removal, Dedicated Service from our Contact Center might be right for you. Unchain yourself from your phone and reclaim your time with the help of our agents. Reach out to us today and learn how you can get a virtual assistant for your business!