How the JRA Business Package Keeps Top Flight Busy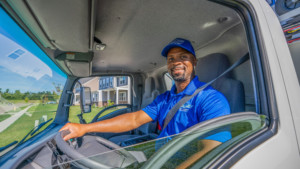 We are excited to be featuring Charles Hosch in our Business Spotlight. Charles is the owner of Top Flight, a veteran-owned junk removal business located in Beavercreek Ohio. Charles credits JRA services as the reason he and his team always stay busy!
"JRA has been amazing!  They are quick to respond to my calls/requests even while helping business owners on a national scale.  I have zero doubt that my hard-earned dollars are well invested in the services that JRA provides" 
Learn more about Charles and how these specific JRA services helped get his business started in the Q&A below!
Q: How long have you been in the junk removal industry?
"I formed my business in September 2021 and began operations in June 2022."
Q: What is your favorite part of the job?
"My favorite part of the job is solving a problem for the customer and seeing their happy reaction when our work is completed."
Q: Why did you choose our services?
"I primarily chose JRA because they were a franchise alternative. I get to operate my business how I want, while receiving the same support as a franchise with JRA."
Q: What results did you achieve by using our service?
"The Business Package Training provided the blueprint to get my business started. JRA also continues to provide website, Google Ads, and SEO management. These essential services keep my team busy!"
Q: Is there anything else you'd like to add?
"I work hard for the money that I earn and I have no doubt that every dollar has been well spent with JRA. I would advise anyone that is "on the fence" to invest in yourself! JRA will help you realize your dream of owning and operating a professional Junk Removal Business."
JRA's Business Package
JRA's Business Package provided Charles with the proper guidance on how to start his junk removal business. The Business Package not only saved Charles time and money, but he received advice in areas he never considered. Ready to make money and live a better life? Book a free consultation with JRA today!
Watch Charles's Client Testimonial