The Annual Cycle for Junk Removal Businesses
The Annual Cycle for Junk Removal Businesses
We opened Junk Doctors in 2012. Like most junk removal business owners, we started the business in the Spring. We simply put ads up on Craigslist and passed out flyers and the calls rolled in. At the time, I was working at a roller skating rink making, like, $10 an hour. The amount of money I made hauling junk blew my mind. It seemed like the profits would keep rolling in automatically. This was easy!
The Winter Hold Up
Then, as many of you just experienced for the first time, Winter hit. That first year we were in business I estimate we probably did around 12 jobs a week from June through October. Things were great for our new junk removal business. November came and the phone quit ringing. During the entire month of November of the first year, I think we did about four jobs total. Much of the money we had saved, which was far less than it should have been, was gone come the end of November. Luckily, I still had my roller skating job. But self doubt and worry had crept in. Was I doing something wrong? Was the competition doing something better than me? Was this just a random stroke of luck? December, January, and February ended up being at least somewhat better than November, but it was still staying slow.
Luckily, that first Winter I got to digging around looking for new ways to advertise because we were so slow . That is when I came across Google Adwords. At the time, there weren't many junk removal businesses using the platform. We got on Adwords December of that first year and business did start coming in. However, it was still much less than it was during the Spring and Summer months. I still was worried that what I thought was going to be a great business wasn't really all that great. Luckily, I did not quit.
The Year Two Recovery
As our second year began and we got into the middle of March, business began picking back up. By May we were more than doubling what we had done the previous year. That's when I concluded that the Junk Removal industry was cyclical. So I was much smarter in year two as I kept some money to the side for the winter. Luckily, we have yet to have a November or a Winter as bad as the first. But there is a definite slowdown each winter.
Aggressive Advertising in The First Few Years
When you are first in business, if you are advertising extremely aggressively, as JRA recommends and as we did our second year in business, then there is a good chance you actually do not see a big slowdown in the Winter months. The reason for that is your growth is happening at such a rate that you are outpacing the slowdown, or at least equaling it. After about five years in operation you will generally begin to see the slowdown effect as your growth will likely have begun to slow down.
The Junk Removal Cycle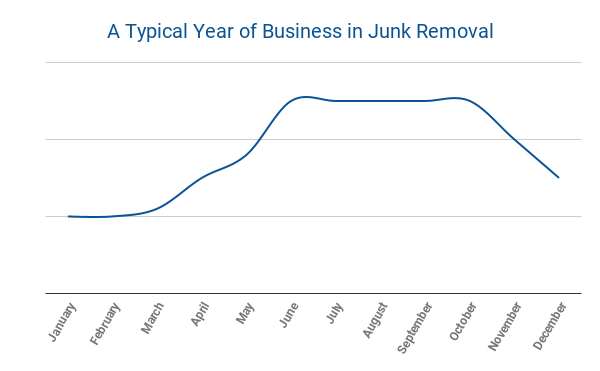 The junk removal business calendar generally goes like this: January and February are normally the two slowest months of the year. March will generally begin to pick up mid way through the month. April kicks off the busy season. May will be busier than April and June will be busier than May. June through October will generally be fairly consistent. However, you could see a bit of a downtick in July because of the heat. November and December will be slower but you can have crazy weeks before Thanksgiving and especially before Christmas. Then you are back to January and February. Throughout all of this you can have random pockets of business depending on the weather, mostly. If you have a streak of good weather expect to be busy. If it is snowing or rainy for a period of time expect to be really slow.
Staying Ahead During The Winter
Nothing in junk removal is 100% predictable. However, these are the trends that we have seen since we have opened. The key to keeping your business rolling in the Winter is to advertise aggressively so you are exposed to property managers, construction companies, and apartment complexes that have consistent year-round work for you. A lot of what you do in the busy months will determine how busy you are in the slow months. Likewise, the same is true for what you do in the slow months.  This time will determine what you will do in your busy months.
When you are slow you should be visiting apartments, going to Chamber meetings, and networking. Keep your employees passing out door hanger flyers and putting out yard signs. And whatever you do, do NOT cut back on advertising! Cutting back on advertising in the Winter because you are slow is like not wanting to fill up your car with gas because you are empty. It'll "save" you a little money in the short term but you aren't going to get very far. Your business needs to be fed. It is fed from your advertising.
Many businesses fail in junk removal because they do not realize the cyclical nature of the business. When things are really busy, make sure you keep a bit of money to the side so you can continue to operate through the Winter. And most importantly you have to stay motivated! Slow months, especially when you're still small, are very stressful. However, if you survive the first Winter or two and follow the JRA way, you will be golden come year three and beyond.
Keep making hay, my friends
-Lee Godbold