JRA Client's SEO and Website Gets an A+ Rating from Google Rep
A good SEO ranking for junk removal can make all the difference. Just ask John LaBarge, the owner of a highly successful business, JP's Junk Removal & Power Washing. Imagine his smile when his Google rep reviewed his SEO and Web and gave him A+ rankings all across the board. The source of these impressive scores? None other than Junk Removal Authority.
"I've got my money where it needs to be, and JRA's doing what they promised they would do for me." – John
If you're the scientific type, then you'll know the best way to prove a hypothesis is to run the experiment again and see if you get the same results. Well, that's exactly what happened when a social media rep reviewed his SEO and Web, too.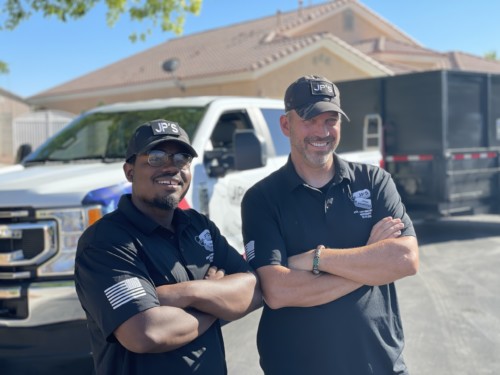 John was at a networking event when a company that specializes in social media approached him about taking a look at his digital marketing efforts. "I got on a call with them, and the first thing that came out of their mouth was, 'We've never had somebody we did a review on where their website was an A+ and their SEO was an A+, and you have both.'"
Top scores from both a social media specialist and Google?  It's no coincidence. With JRA, lightning can strike twice in the same place—and seriously electrify your online presence!
Before John partnered with JRA, the power washing side of his business took a hit. When the COVID-19 pandemic began, he lost over six figures in power washing business. But thanks to partnering with JRA, he was able to make up for the loss and see tremendous growth in junk removal. His A+ web and SEO scores have earned him an enormous amount of business in the Las Vegas Metro. And, with numerous clients still booking appointments, it's showing no signs of slowing down. So, how come John isn't tied up on the phone all the time? That's because he uses our Contact Center. With the Dedicated Service plan, a Virtual Assistant handles all call and lead inquiries for him so he's not chained to his phone around the clock.
With all the extra clients he's getting from our marketing, John has a fantastic opportunity to take hold of his business and steer it towards some serious expansion. Though he currently has a four-man team and two trucks, he's on track to double both of those numbers. And with more employees and more trucks comes even more business and even more chances to grow. John credits JRA to this success. He says that with us, he has "all the benefits of having a franchise without the negatives."
You could enjoy an A+ rating on your SEO and Web, too. Partner up with JRA by getting started with our Junk Removal Marketing Services. When you do, we'll take charge of your online presence. This includes crafting your Google Ads campaigns, creating a fully functional website for you, and boosting your SEO so you're at the top of the search results. Get a good SEO ranking for junk removal by contacting JRA today!