Is Your Junk Removal Business Recession Proof?
An uncomfortable reality about our economy is that sometimes, it goes through recessions. Who can forget The Great Recession of 2007? During that era, times were tough, and that goes for people and businesses alike.
JRA consultant Sam Schick was one of the millions of Americans who worried about losing a business to the recession. At the time, Sam was the owner of one of the largest junk removal operations in the United States. But, Sam and his business didn't just survive through The Great Recession. They made it through with record revenue.
"I don't think any business is recession-proof, but I can tell you that we're pretty insulated in the junk removal business." -Sam
Sam says that no business is totally protected from a recession, but that the junk removal industry is safer than others. You just need to have a little bit of patience and know where to shift your focus.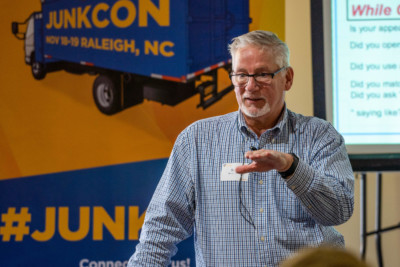 At the beginning of the 2007 recession, Sam's phone was ringing off the hook with cancellation calls. "It was like a light switch," he said. "The next day we got calls from people… they couldn't pay for this service."
However, as business seemed to take a downwards spiral for Sam, a silver lining appeared. As it turned out, the recession was having other effects across the country that junk removal businesses like Sam could benefit from. Properties were going into foreclosure at a higher rate, and banks needed those houses cleaned out to be market-ready. Businesses were shutting down and landlords had to clear out the leftover stock. Suddenly, Sam was making more revenue than ever before simply because he was gaining commercial jobs faster than he was losing residential jobs.
In a recession, you have to be flexible if you want your business to survive. That goes for all lines of work. However, in the junk removal industry, you may very well find yourself facing a case of "when one door closes, another door opens" during a recession. Remember that switch Sam mentioned before? When it gets flipped, it's not necessarily lights out. Instead, it's an opportunity to shuffle up your priorities as a junk removal business. As residential calls taper off, seek out the job possibilities that arise during a recession:
Foreclosure cleanouts
Commercial cleanouts
Eviction cleanouts
Light demolition
Additionally, don't forget to continue getting the word out about your business when work slows down. Instead of pinching off all your employees' hours, keep them occupied. Have them advertise your company with flyers, yard signs, or even volunteer time at local charities. It's also important to maintain a strong online presence, too—which you can accomplish easily with our junk removal marketing services. That way, the people who need your services have a way to find you.
Above all else, keep an eye on your business and always adapt when circumstances try to hold you back. Do this, and you'll have a better chance of surviving when it comes time for that metaphorical light switch to flip itself in the other direction again.
Sam built a 25 truck, 100 employee junk removal franchise that brought in over $10 million a year. Now, he helps JRA clients start their own junk removal business as a consultant. Ready to work with Sam? Connect with him by clicking here.