How I Got Into the Junk Removal Business
My name is Lee Godbold and I'm the co-founder of Junk Doctors Junk Removal and Hauling and the Junk Removal Authority. With help from my partner, I built Junk Doctors into a $2 Million-a-year business that can literally run without my day to day input, all by the time I was 27 years old. At the time of this writing we have around 30 truck team members, 10 trucks, a Bobcat, and a dump trailer in operation in North Carolina. We've got a great organization full of great people and it has made life great for me. I can focus on building JRA now while still getting a hefty paycheck from Junk Doctors. But where did we come from? I can promise you it hasn't always been airplanes and nice cars.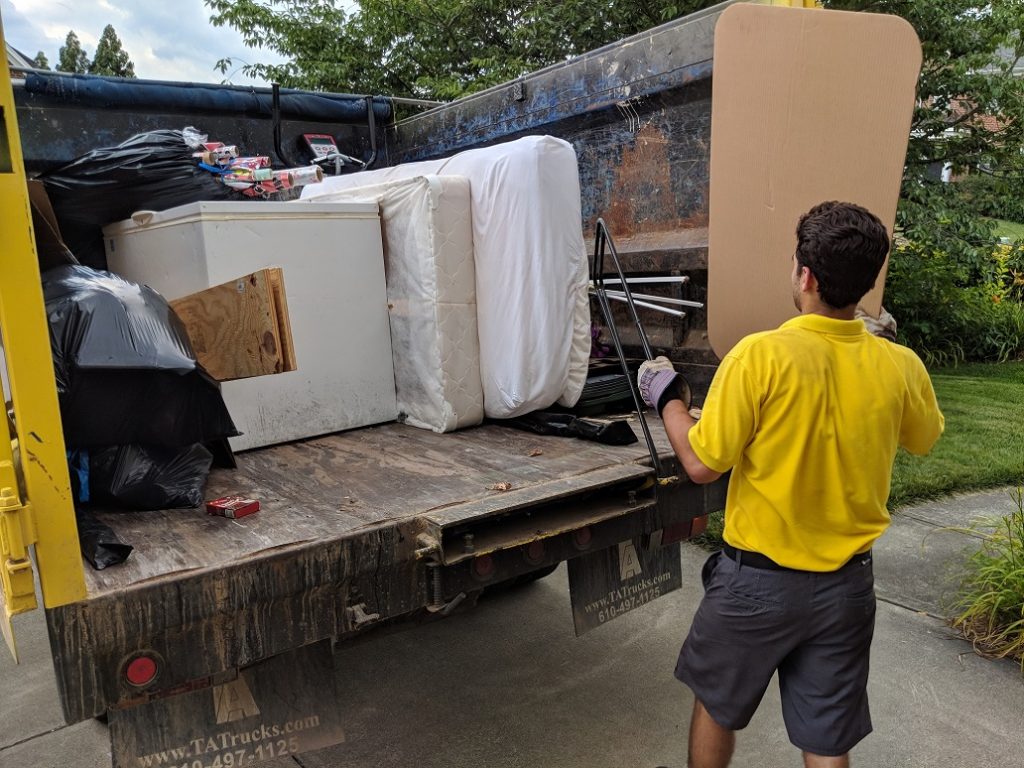 Before I started Junk Doctors I was working at a roller skating rink making around $15,000 a year and going to school part time. I was also racing NASCAR style race cars. Every extra penny I made went into the racecar. Even then my car wasn't good enough to be truly competitive. I would go fast and something would break. I'd fix it and then wreck or it would break again. Eventually I ran out of money and sold everything but my pickup truck.
I have always been very driven and entrepreneurial. Always sure that I would be successful, knowing I would work for myself. I didn't know when or how, but I knew I would figure it out. I tried many businesses before Junk Doctors. There was a flyer delivery business, a mobile airplane washing business, a mobile paper shredding business, a cleaning service, and more. Each one of those failed and each failure taught me lessons that led to the success of Junk Doctors.
I got to thinking that people have junk, I have a truck, and I'm willing to work hard. Until I figure out what I want to do why don't I put up some Craigslist ads and flyers about hauling junk? I did just that and within the first day I had my first job scheduled. I was charging something like $50 per pickup truck load. So cheap! But I was making more money than I'd ever made and having a blast. I knew two weeks in that I'd found what I'd been looking for. I was going to be a garbage man!
After about two weeks of hauling using just the truck, I got to a HUGE yard waste job. I wound up borrowing a 6×12 trailer from my boss at the roller skating rink. The thing had sides that were maybe 6 inches high! Not to be deterred, I stacked that yard waste five feet high and ran ratchet straps all over the place and hauled it to the yard waste facility. Five loads. I think I charged around $800 or $1000. I couldn't believe I'd made $1,000 in a day. Little did I know that just a few years later I would be consistently making over $10,000 a day!
After about six months of hauling using that no-wall trailer we decided to take a risk and buy a trailer with 3 foot sides. A $1200 risk. Man we were sweating spending that much money. But we bit the bullet and got the trailer. It instantly increased our productivity and allowed us to hang some signs on our trailer (though not very impressive ones).
After using that trailer for around six months we bought ol' Number 1 from Jacksonville, FL. When we got that first dump truck our productivity went through the roof. We could do five jobs instead of three in a day and would finish the day feeling refreshed rather than dead tired. When someone wanted a same-day pickup we had them covered. We had enough energy to attack that new job with excitement. After being on truck 1 for about 6 months I got off the truck full time and began working on growing our business instead. I began hiring people, advertising, and selling. Once I got off the truck we again increased productivity.
The following year we began a trend of adding one to two trucks a year as we grew. Revenue would double most years. I always wanted to build a business that could be sold and run without me. I didn't want to have to shut down operations so I could take a vacation. That goal was met by year three. And now I work about 10 hours a week on Junk Doctors compared to about 60 hours a week for Junk Removal Authority. I travel when I want to and I'm always replacing tasks I don't enjoy with stuff I do. That is the purpose of true business ownership.
Now you know how we made it. We want to take you to the same level. We want you to reach success quicker than we did. By partnering with us you will literally remove years from the process. Call us at 919-466-9322 or email [email protected].
-THINK BIG AND STAY FOCUSED
LG