Add Online Booking to Your Junk Removal Website with Workiz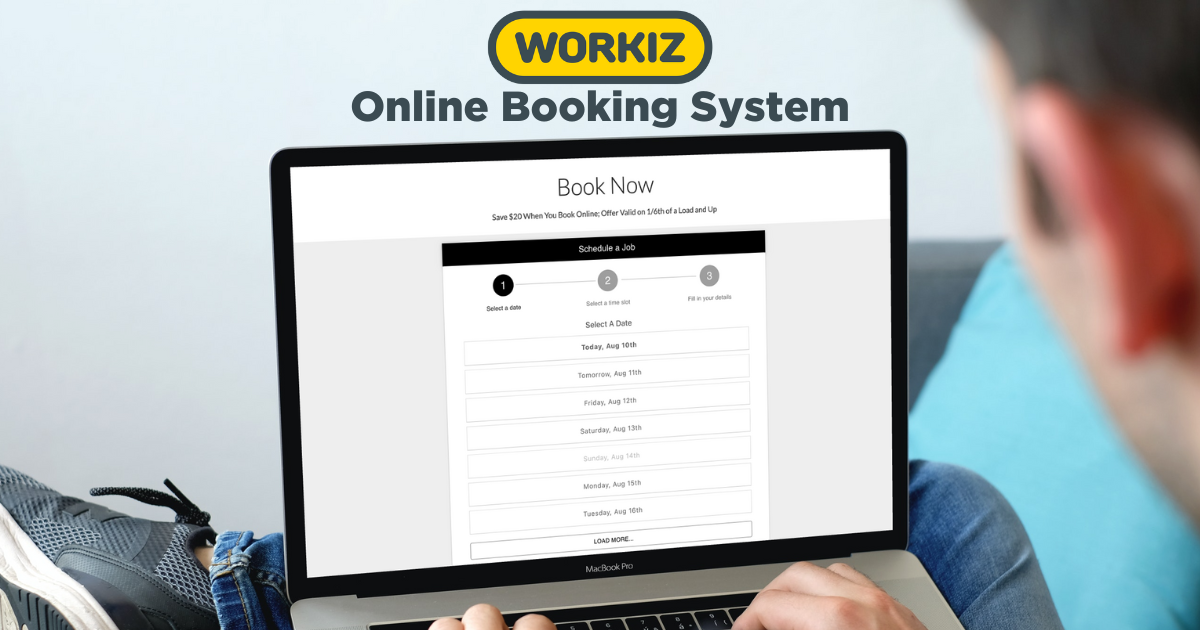 Do you offer an online booking system for your business? Many customers prefer to book junk removal services online rather than make a phone call. If you're not providing an online booking system for your customers, you are missing out on a huge section of your market! Thankfully, Workiz offers an easy solution. 
The Workiz Online Booking system is Junk Removal Authority's recommendation for all junk removal businesses. Why? Because when our sister business, Junk Doctors, began using this system, its online bookings doubled. The tool is easy for your customers to understand and use, and that's why it's so effective at booking appointments.
Workiz has tons of other great features too. Workiz is the only field service management software that fully integrates with Angi, Thumbtack, and Google Location Services letting you answer leads faster and close more jobs. You can keep your business running while you sleep with Workiz' fully-integrated communications suite that allows you to respond to your customers 24 hours a day. Workiz Pay lets your team create invoices, provide estimates, and easily t paid in the field. The Workiz/Sunbit integration allows your customers to pay for complex jobs in installments allowing you to close bigger jobs faster.
Here's how you can add the Workiz Online Booking system to your junk removal website. This guide assumes that you have already configured a Workiz account.
Workiz Configuration Steps
On your Workiz account page, go to

Settings.

Scroll down to the

Integrations

section, then click on

Online Booking.

Click

View and Edit Your Hours,

then adjust the hours to match your business's. You can change the hours of each day of the week.

Next, use the

Time Slot Length

menu to select how long you want the available appointment windows to be. 

Use the

Business Availability

menu to determine additional constraints about when appointments are available. This can be based on employee availability or the number of jobs allowed per slot.

Use the

Minimum Notice Time

menu to require sufficient notice to claim a time slot. For example, if you adjust this setting to 2 hours, then time slots less than two hours from now will become unavailable. 

Use the

Service Types

menu to specify which of your services can be booked online. If you have any services you'd like to offer on a case-by-case basis, then it would be best to leave them out of this section.

Next, use the

Form Fields

menu to make each field your customers fill out either

Visible

or

Required.

This way, you can configure the contact form so that you are never left with insufficient information from the customers.

Then, add the email address and/or phone number you'd like Workiz to notify when you receive a booking.

Finally, add the hyperlink to the thank you page you'd like your customers to see after they book. With that, Workiz has been configured—so let's add it to your website!
Adding Workiz Online Booking System to Your Website
Scroll back up to the top of the page and look for the

Get embedded code

button. Click the button, and you will find the code needed to add the Workiz Online Booking Widget to your website. Click

Copy to clipboard.

Simply add this embedded code to your website of choice, and voila! The online booking system is complete. Now, customers will enjoy easy online booking and you'll get more appointments on your schedule! 
Workiz, JRA, and JUNKCON™
Workiz is JRA's field management software of choice. We've seen firsthand how it's helped hundreds of JRA clients track KPIs, reduce waste, and make more money. If you're a new Workiz customer, visit Workiz.com/JRA to get two months of free service when you book a demo. For the junk removal business owners, this is an invaluable offer—so don't miss it!
Additionally, we are proud to report that Workiz is a presenting sponsor at JUNKCON™ '22, the world's largest conference for junk removal business owners. Join Workiz co-founder Dan Kadosh and hundreds of junk removal business owners for three days of networking and knowledge-sharing. Visit JUNKCON.com to learn more and get your tickets today!
Watch the Video Tutorial from Workiz