Remove your Junk and Clean your Home with the Dirty Dogs
Dirty Dogs Junk Removal has been going strong in the Harrisburg area for over 10 years. We've been lugging couches, deck wood, concrete, recliners, boxes, bags, electronics, TVs, and more with our big strong backs. We've been cleaning up Harrisburg the best we know how. We've been throwing at our backs to prevent YOU from doing the same. That is the Dirty Dog Way.
Junk Removal DIY? What A Hassle!
You could always do this job yourself. We know that. Unlike HVAC people, plumbers, floor refinishers, etc. we know that most people can do junk removal. But what a hassle! You have to get the help of a friend and where the heck do you get a junk hauling truck? You can rent a UHAUL or maybe got to Lowes/Home Depot to get one. But what a hassle. Then you got to get the help of a friend to help you remove the junk. Then you've got to actually remove the junk. Then you've got to go to a donation center, recycling center, and wait in line at the dump. What a hassle! And to cap it off all the junk removal you just completed has caused you to throw out your back. You've got to deal with that for the next several days. Contrast that with hiring the junk hauling pros at Dirty Dogs to come out and whisk away your junk. Now that is what you call a smart decision! Dirty Dogs is here to make your house clean again.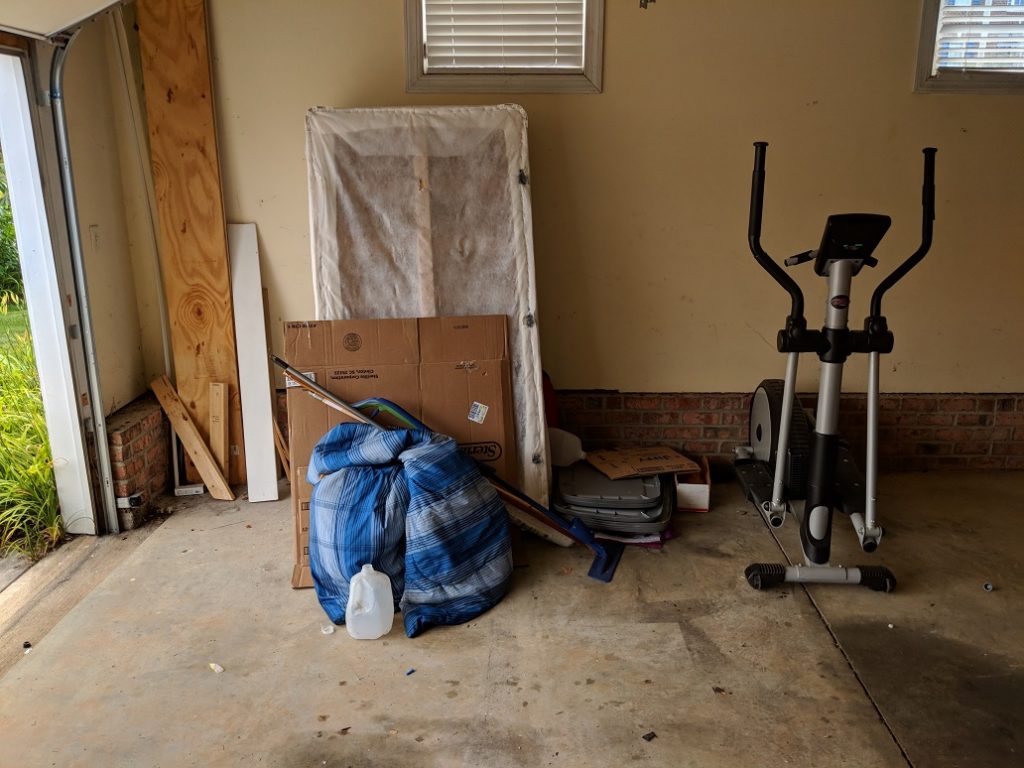 Unlike our top competitor, we are 100 percent locally owned. Leland Nelson is from the Harrisburg community. All the profits the business earns stays in the local economy instead of going off to Canada. Our competitor ships off 15 percent of what he brings in out of the country. Our junk removal revenues stay right here. It gets spent at our local restaurants or donated to our local churches.
Junk Hauling Can Be A Very Time-Consuming Task
You've got to get the truck. You've got to get your brother in law or a good friend to give you a hand. You've got to buy a six pack of beer (or maybe a 12) that you and your friend can share. Then you've got to pick up that sleeper sofa to be removed, that old couch to be removed, got to do that attic clean out, got to carry the stuff down the stairs, load all the junk into the truck, and then haul it away. That sure is time-consuming! Even just removing an item or two could tie up a good portion of your Saturday. Or you could call the Dirty Dogs and get that junk outta' here! We can respond with same or next day service. It doesn't matter that you've been staring at that junk for 10 years. You want it gone NOW! We've got you covered.
Harrisburg has a lot of old houses with a lot of basements. We do jobs all the time where stuff has been building up in a basement for 20, 30, or even over 50 years! It's amazing some of the old things we encounter from time to time. Old water heaters, refrigerators, foot-powered sewing machines, foot-powered saws, newspapers from the 30s. All kinds of neat junk have been found in the basements of Harrisburg. We always get a kick out of thinking of all the history that this house has been through. But all good things must come to an end for junk. But not all junk. Much of the junk we haul away gets donated, recycled, or repurposed. So not only are you cleaning up with the Dirty Dog but you are helping those in need and our environment too!
So if you are ready to get rid of that junk then just give us a call at 717-479-4787 and get an appointment set up with the Dirty Dog!