Old TV Junk Removal Louisville
Remember that old TV you bought 15 years ago? Maybe it was a Sony Trinitron, a 36 inch behemoth with a big sound system installed. That thing weighs about 250 pounds. This was a premier TV in its day, but now you look at it with dread. It has long since stopped working or you just want to replace it with a newer flat screen TV. But you dread getting that TV removed. What do you do? Call JUNKCO of Louisville to get that TV hauled away!
We remove all kinds of TVs and other electronics in Louisville, Crestwood, and the surrounding areas. Need printer removal? Got you covered. Treadmill removal? We're here for you. Old air conditioning unit? Stay cool and give us a call. We've got all of your junk removal and electronic removal needs covered.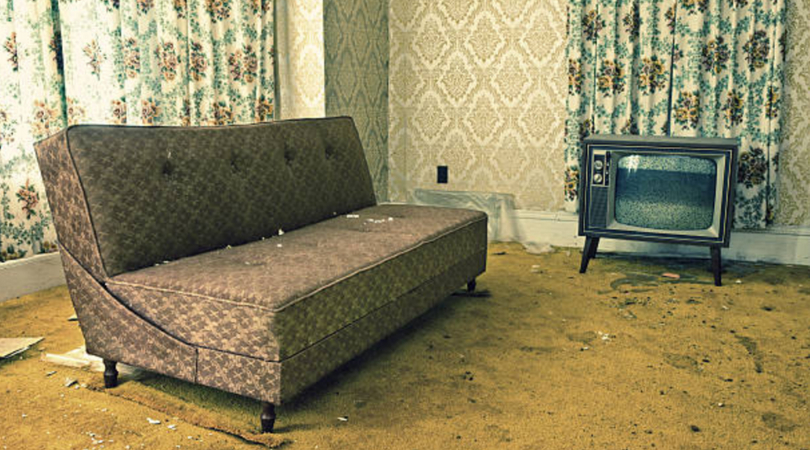 You don't want to hire just any old junk removal company in Louisville, however. Why, you ask? Because TVs and other electronics have recyclable and hazardous materials in them. Unfortunately, it does actually cost more to recycle the TV than the money it brings in. For that reason, it costs money for us to dispose of TVs. A dishonest junk removal company might just chuck it in the landfill. That's terrible for the environment (and for your water supply!) and a huge waste of our landfill space. Go with an environmentally friendly junk hauling company. Go with JUNKCO!
Are you in an office and have a bunch of electronics?
The friendly professionals here at JUNKCO complete junk removal at all property types in the Louisville area. Even if you are in the Humana Tower or PNC Plaza, we will come all the way to the top to get your stuff. Heights don't scare us! We will go to any length (or height) necessary to remove your junk and electronics.
Some of the electronics we have removed over the years (in addition to TVs) are printers, radios, eight track players, cassette decks, industrial fans, computer monitors, computers, stereo equipment, treadmills, blenders, wall unit air conditioners, and more! All of these items were properly recycled, too. If a you have home or business electronics, chances are we've removed one before.
Do you have a rear projection screen TV?
If you do then you might wonder how we remove a rear projection TV. Sometimes, if it isn't too heavy, we will use our strength coupled with a tool called a shoulder dolly. Other times, to properly and safely remove heavy rear projection TVs, we must disassemble them. The case of the TV comes apart and the individual components, such as the lamps and speakers, can be removed. This takes a bit of time, but by doing this we can lighten the TV by around 60 or 70 pounds. So instead of dealing with a 350 pound TV, we are now dealing with one under 300 pounds. That's a big difference if you are going down several flights of stairs!
JUNKCO isn't just an electronic removal company, however. We also remove construction debris, boxes and bags of stuff, cardboard boxes, couches, old clothing, entertainment centers that housed your TV, beds, mattresses, box springs, and more. We handle all kinds of junk removal and provide all labor for no extra charge. No matter if the stuff is in the attic or basement, the smiling team at JUNKCO has you covered!
Whether you need a TV or some other type of electronic hauled away, or you need junk removal for some other item in the Louisville area, just give us a call!