SEO
&
Google Ads Management
What could a top Google ranking do for your business?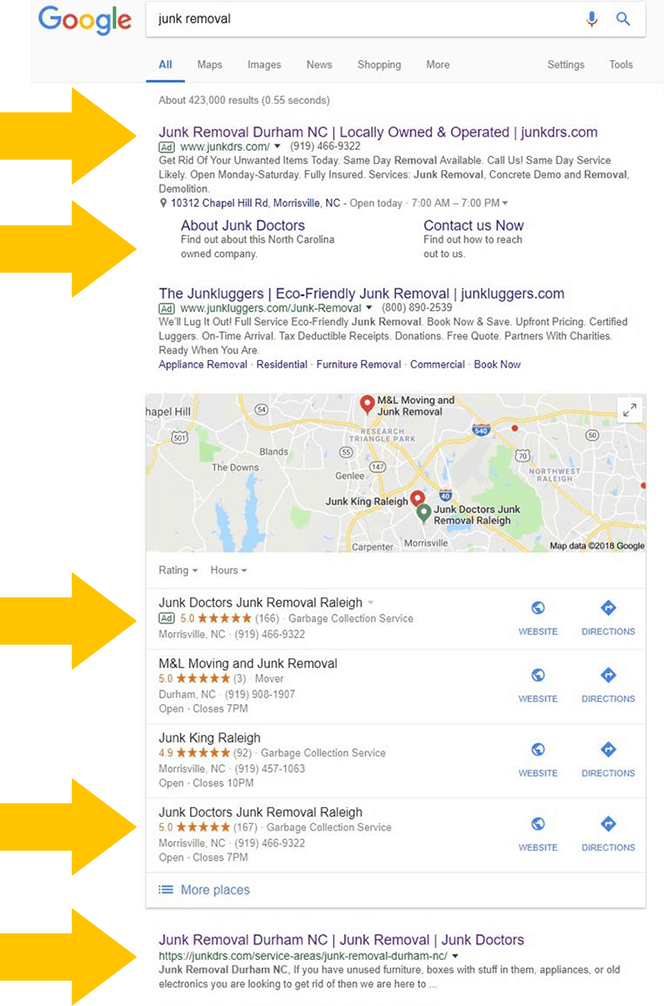 Search Engine Optimization (SEO)
While paid ads can be extremely effective at attracting and converting site visitors, a large percentage of online shoppers skip paid results altogether. To turn these potential website visitors into paying customers, you'll need to rank well in the organic results. This is best accomplished through our Search Engine Optimization (SEO) process which includes on-page and off-page optimization and strategic linking, consistent content creation, and strategic website architecture.
Get More Info
Google Ads Management
Google advertising is a great way to instantly generate more business for your junk removal company. An improperly structured campaign can however quickly turn into a money pit. JRA's unique ad campaigns are designed to avoid wasted Ad Spend and ensure that you're bringing in tons of profitable junk removal jobs. Using the formula we developed for our own junk removal company, we can help you sit atop your local Search Results, so you're the first thing a customer sees when they need junk removal.
Get More Info
Hire a Junk Removal SEO and Ads Management Company
---
Have you gotten calls from lots of so-called SEO and pay-per-click advertising management companies trying to sell you their services? Have you used one of these services without seeing results? Do you want to be highly competitive online without throwing away your money?
You've come to the right place. Unlike other SEO and ads management companies, Junk Removal Authority works specifically in the junk removal industry. This means our campaigns are tailored precisely to the keywords and strategies that work best for junk removal businesses across the country. That's great news for your junk removal business – it means we know exactly how to get your site ranked highly on Google and other search engines, which means more calls, bookings, and customers for you!
Ready to attract tons of new customers?